Made for creative collaboration
Utilize your modular template for you and your team to visually build emails within brand guidelines
Made for marketers and managers
Turn around email campaigns faster and streamline how you work with your team on producing email content by using an email editor.
Produce more campaigns in the email builder

A shorter review process means being able to work on more emails with the time you save.

Never miss a marketing opportunity

Reuse components to turn around a campaign in hours, not days, or quickly update copy in minutes.

Organize your team around your emails

Invite team members in to make edits without worrying about anything getting accidentally broken!
"Blocks Edit has allowed the team to accommodate the big influx of new creative requests, since designers are spending way less time designing emails and can now focus on other marketing."

— Steven Till, Senior Creative Developer, DICK'S Sporting Goods
Made for designers and developers
Design and code your template as you see best and add fully-customizable editing capabilities around it for an email builder.
Flexible for utilizing design trends

Editing works around your design so you have full control over design direction.

Set purposeful limits on design

Decide how content is edited so there is no deviation from intended design decisions.

Works with your tools and coding workflow

Code using best practices and add Blocks Edit tags around your HTML code.
"This month I've had jobs using SFMC, MailChimp, Klaviyo, but honestly the best to use as a developer is Blocks Edit hands down."

— Sarah, Email Developer
Made for copywriters and content editors
Write your email content live within your email template in the email builder and collaborate with your team for edits, all in one place.
Just content, no coding needed

Focus on writing and editing your content without worrying about the code behind it. Customize your link parameters.

See a live preview of your email

Edit your content inline, visually within the email editor, so you see exactly what the email looks like each step of the way.

Stop using docs to review copy

Reduce back and forth writing and reviewing content with your team. And no need to bug your developer for updates.
"Blocks Edit allows me to collaborate on email campaigns with my team quickly and efficiently which is extremely helpful in the fast pace of today's online atmosphere."

— Danielle Taylor, eCommerce Manager at AAA Northway
Made for systems managers and devops
Integrate with current systems and tools with a visual email editor that is platform agnostic and fits into current workflows.
Use your own asset storage and delivery solution

Connect to standard sFTP along with CDN providers AWS S3 or GCP Storage to access and export an email's images and generate their URLs.

Setup and manage your team using single sign-on

If you utilize the single sign-on security layer, you can setup a connection using the SAML standard. With additional support for Okta and OneLogin.

Connect to Salesforce Marketing Cloud

Your team can build and edit content in emails without having to be added to your SFMC account, and then export directly to SFMC, ready for send off.
To help their process even further, the teams utilized the Salesforce Marketing Cloud integration to export directly to their Salesforce account, and the AWS S3 integration for their images.

— AAA Customer Story
Made for your entire organization
A simple point and click, drag and drop interface with no formal training required. So anyone can be invited to jump in, review, and make necessary changes to an email.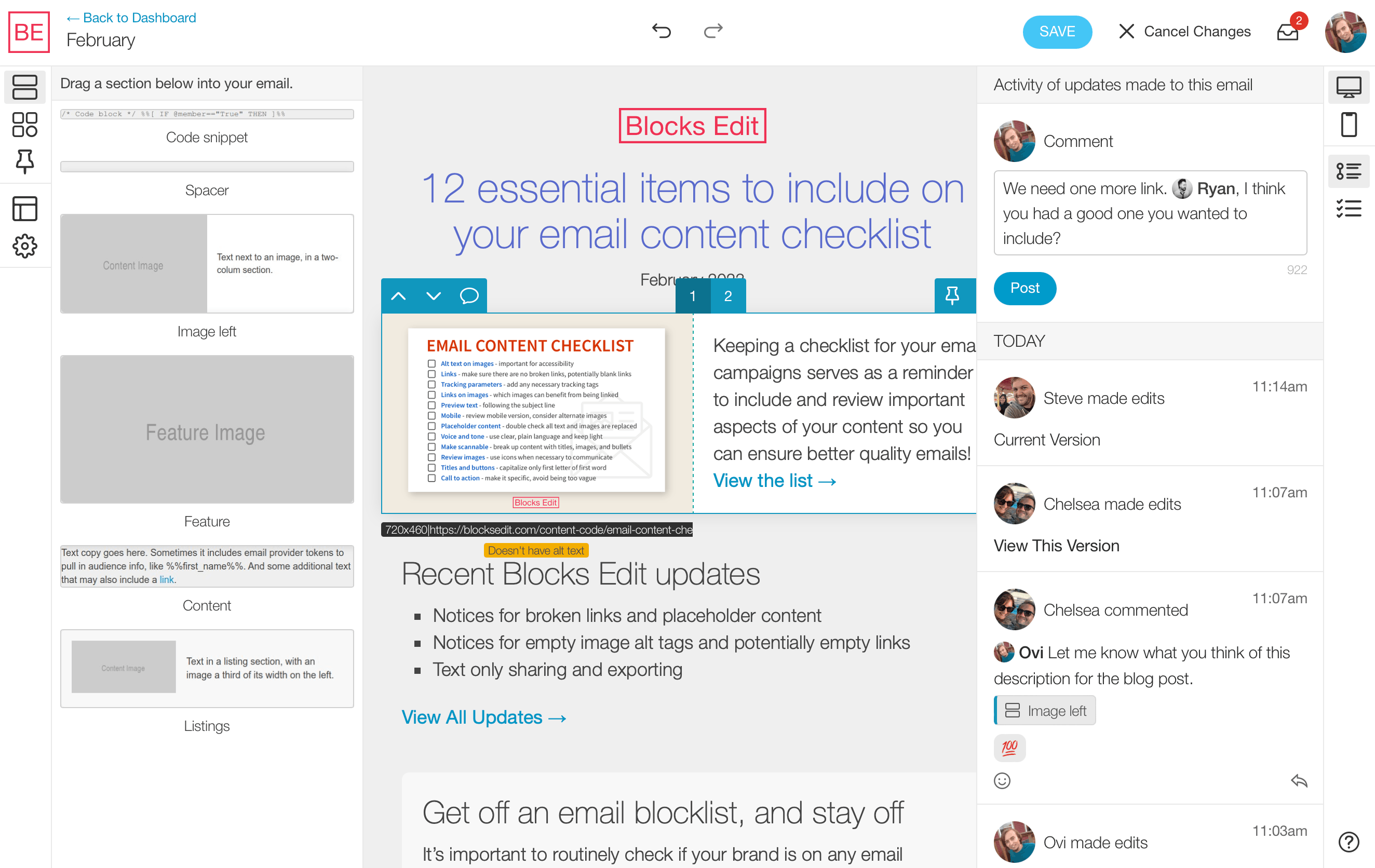 Get your coworkers on board
Present the benefits of modular design with a visual editor
Ask your coworkers to help you setup your new content production workflow, with tools and resources to show ROI and the info you need to be prepared with all the answers.