More effective email production
Visual custom template editing to make your workflow more efficient, and your content more impactful
Not your standard visual editor
There are some downsides with using standard visual email editors: building a template based on rigid limitations, an endless amount of often confusing design and formatting options, and a bunch of form fields for content editing and customization. Blocks Edit works differently.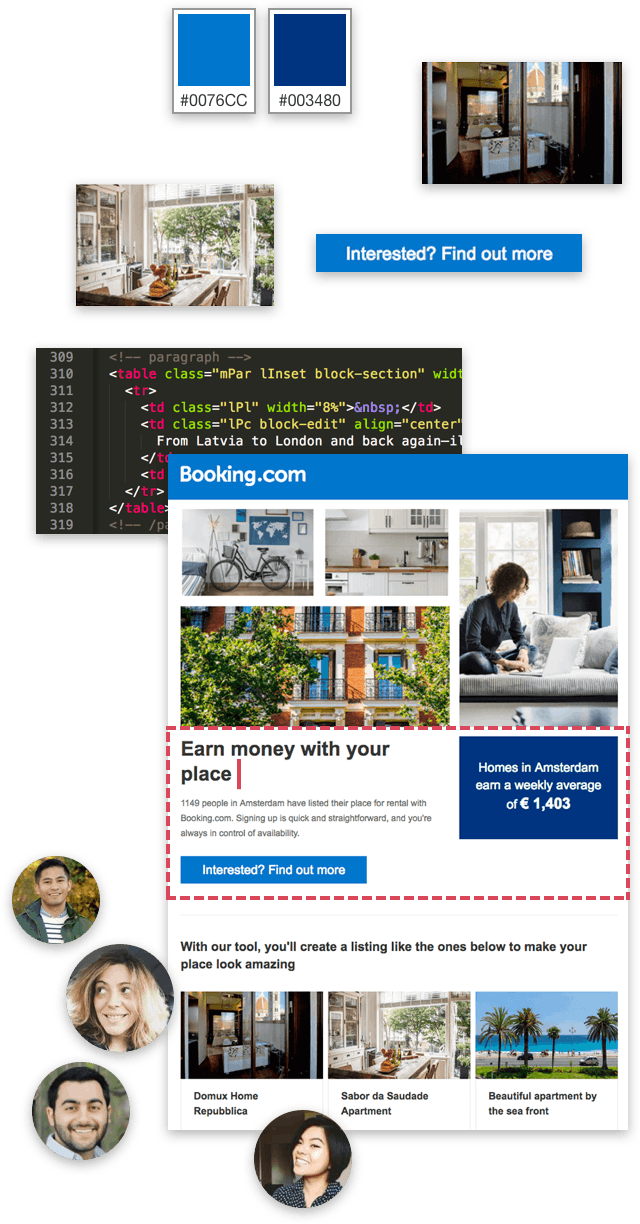 Use your own custom template

Instead of building an editable template around a rigid system that limits your design, use a custom HTML-standard email template. Make it editable with simple template tags customized around your template's needs.

Straightforward editing options

Follow your template's modular design system to build individual emails with drag and drop components. Design and formating options are pre-tuned to ensure brand guidelines are followed and things don't get messy.

Your content becomes tangible

Edit content directly within the email itself by pointing and clicking on what you want to update, seeing live results of your changes, as you're making them. It's true WYSIWYG editing for instant visual accuracy.
Use tags in your template code
Simple HTML tagging that works around your code More info →
Set guardrails around your design

Decide how content is edited so there is no deviation from the intended design to mess anything up.

Maintain brand consistency

Develop a master template, use preset layouts for campaign types, and easily build custom layouts.

Flexible for utilizing design trends

Editing works around your custom-designed template. Enable options like mobile view and dark mode preview.
Visually build email campaigns modularly
Use the editor to drag and drop components to build your email More info →
Never miss a marketing opportunity

Reuse email elements to turn around a campaign in hours instead of days, or quickly update copy in minutes.

Just content, no coding needed

Focus on writing and editing your content without worrying about the code behind it.

See a live preview of your email

Edit content directly to see exactly what the email looks like, eliminating unnecessary back and forth.
Bring in your team to build, edit, and review
Easy enough for anyone on your team to start using without extensive training More info →
Stop passing docs around

Instead of reviewing content with your team via docs and email threads, you can build and edit an email design live.

Quickly make updates and review

Invite the right people to edit the right piece of content. Send preview links and test emails for others.

Connect to your content sources

Integrations allow accessing files from other platforms – Salesforce Marketing Cloud, Amazon S3, and FTP/sFTP.