Visual email editing from your custom design
Developing branded email campaigns can be a lengthy, complicated, and messy task. Visual email editors that allow you to use your own design system and custom code can help. How do the available options compare?
| | Blocks Edit | Competition |
| --- | --- | --- |
| Template setup | Simple | Complex |
| Collaboration features | Yes | Limited |
| Platform-agnostic | Yes | Not fully |
| Cost to use | Low | High |
| Includes free version | Yes | No |
The visual email editors landscape
From a design perspective, visual email editors have quality limitations. This comes from how email clients render emails and how it's a difficult task for editors to account for all clients and have enough customization options to meet your design's requirements. The best way to ensure quality design is to custom code your design.
When coding your design, making your design modular and having a design system of reusable components helps make the process more efficient. The Blocks Edit visual editor works around your library of custom designed and coded components. While there are a couple of other products on the market that do this, Blocks Edit is the easiest to setup and use, with added collaboration features others don't have, and a much lower price tag!
The setup and costs involved
You can get an editable email setup in Blocks Edit in minutes. In other products, it takes considerably longer and requires modifying your code to the extent that it can make it difficult to manage it the more complex your design gets and as you make updates to it. Blocks Edit's editable tags approach keeps complexity and updates in mind by fitting around your current code without affecting it and how your design is output.
Besides a lengthier setup process costing you time, competing products' price tag is also higher. If you visit their website, you won't see a price listed, so you know it's a lot! We list our pricing upfront. And we know it's lower from our customers who shop around and are pleasantly surprised. We keep our cost down because our software is built in a more streamlined way while still offering the same set of features, and then some!
Why Blocks Edit is different
Included in free version
Drag and drop functionality
Customizable editing features
Reusable modules
Stored content library
Automated image formatting
Mobile preview and editing
Platform-agnostic exporting
Revision history of email edits
Email provider code snippets
Link tracking parameters
Integration add-ons

FTP/sFTP

Amazon S3

GCP Storage



Marketing Cloud


Iterable

Klaviyo

ActiveCampaign

Single Sign-On

Okta

OneLogin
Our goal from the beginning was to keep costs down so we can help as many people as possible create better quality emails! That's why we also have a completely free forever version, to eliminate any barriers for you to try it out for yourself. And integration upgrades are based on the tools you currently use and may like to include as part of your overall email production. They also keep you platform-agnostic, with your email code completely portable across any email provider.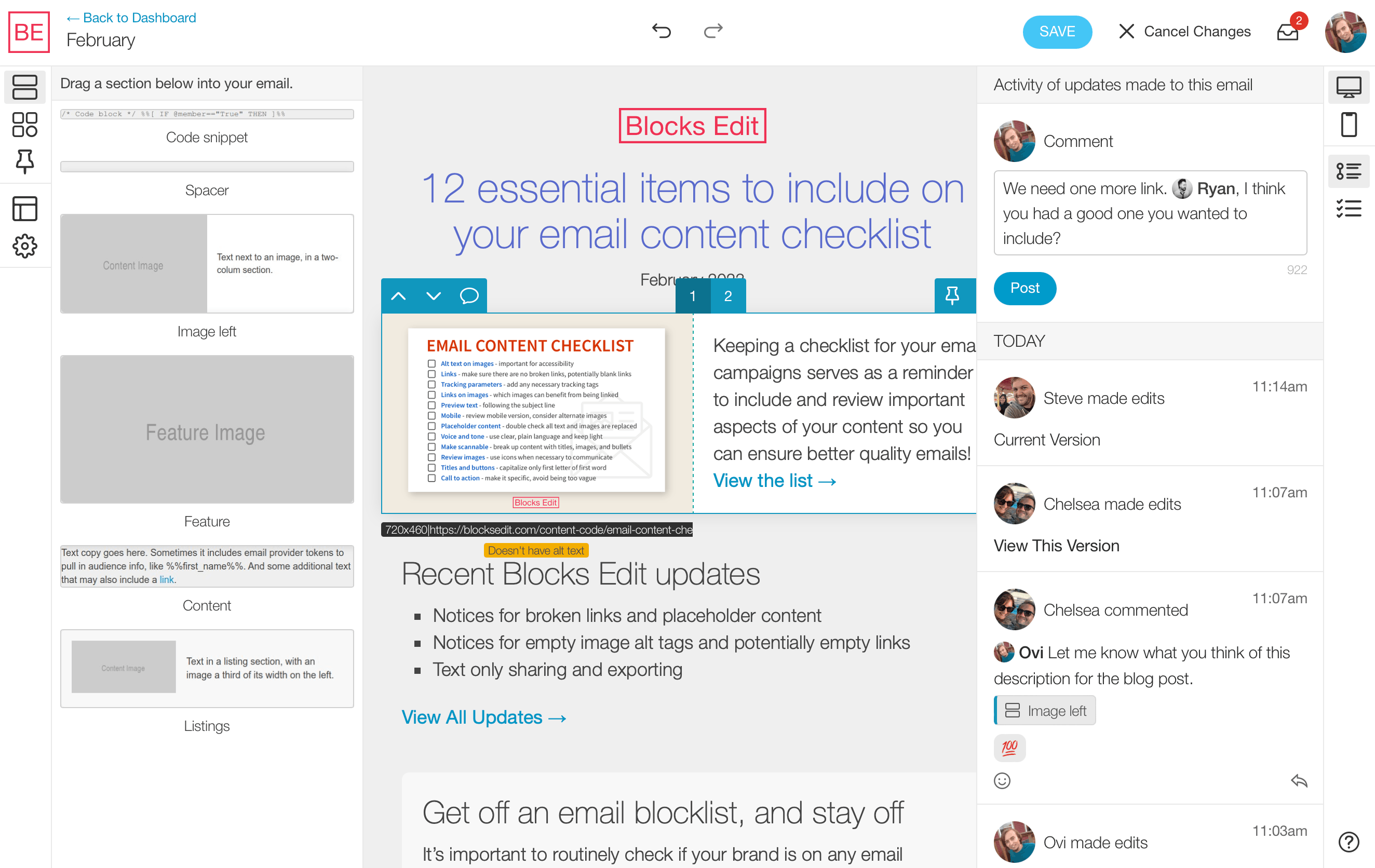 There are only essential editing options based around your design. Inline visual editing options focus on content and editorial review in all aspects of the interface. Team comments and a timeline of your email's revisions appear in a single view. Automated checks and thoughtful accessibility reminders save you time and energy.
"Blocks Edit has allowed the team to accommodate the big influx of new creative requests, since designers are spending way less time designing emails and can now focus on other marketing."

— Steven Till, Senior Creative Developer, DICK'S Sporting Goods
Setup your template in minutes!