You know your email production process is broken. You can feel it. Every time you're going back and forth reviewing content with your team using text docs and email threads. Every time you have to start a new campaign from scratch. Every time you have to work with a programmer to make content updates. You can update content on your website on your own and build out new pages. Why can't you do it with your email campaigns?
Streamline your email production workflow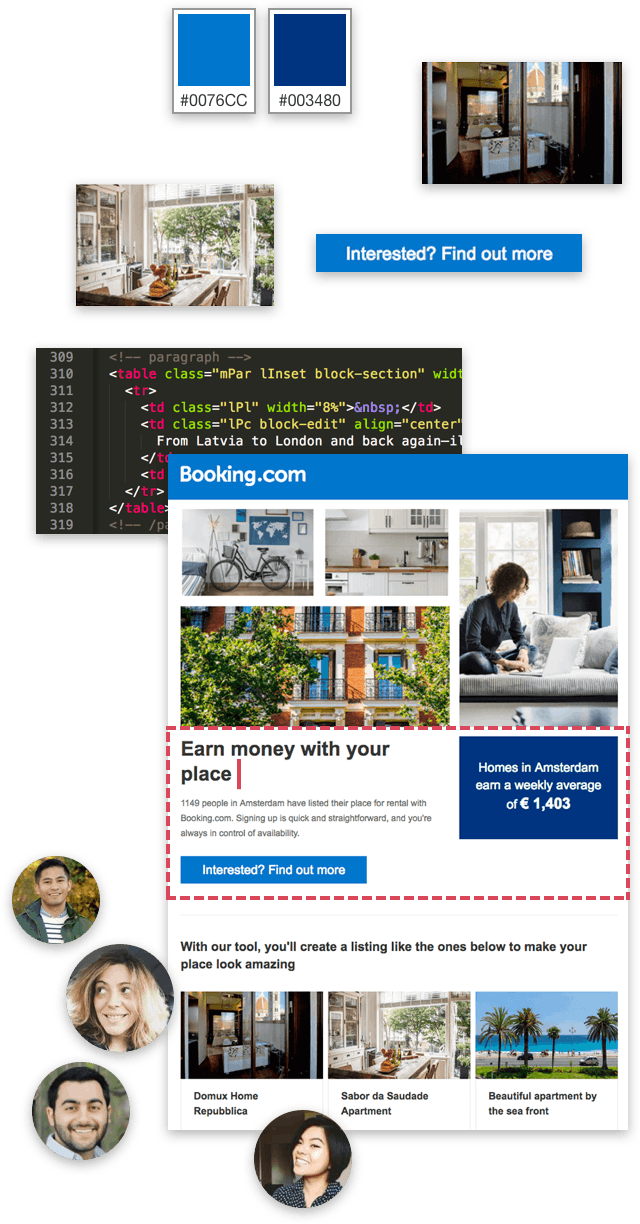 Use a content management system for emails

Like a website CMS, Blocks Edit works around your custom design and clean, functional code. Implementation requires just adding tags to your template's HTML code.
See how Blocks Edit editing works →

Save time and increase output

Eliminate back and forth between copy review, code, and QA and quickly turn around campaigns.
Calculate your email production efficiency →

Fully-utilize your company's branding

Strategically use your design styleguide, code library, and content assets, so you can produce more emails while consistently maintaining a high level of quality.
Read our free guide to using a template system →
"Supporting email production went from 80% of my day to almost zero. I can now focus my time on strategy for clients and they have better control editing their email content."

— Steven Douglas, Founder, Some Reaction
Build and edit emails with your team
Good tools should allow us to do things more efficiently and empower us to do better work. Great tools should go even further, allowing us to shine at the work we are best at while enhancing our workflow and how we work with our team.
Designers, developers...
Design and build templates and define editable areas around the design, so as content is updated the design and code remain intact
Marketers, editors...
Build new emails and view your content changes live, as you're making them, reducing the need for additional QA and constant back and forth
...and anyone else you need to work with
The simple point and click interface requires no formal training, so anyone can be invited to jump in, review, and make necessary changes to an email
The CEO on the state of the union

Catherine in Finance's tax tips

The contract copywriter

Legal to do a final review

+

Invite all the people you need
Use with your current email provider
Blocks Edit follows email development standards and is platform-agnostic, so you can import your email's code into your preferred email provider to send out.
...and more!